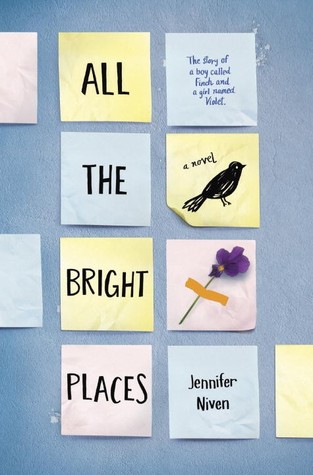 The Fault in Our Stars meets Eleanor and Park in this exhilarating and heart-wrenching love story about a girl who learns to live from a boy who intends to die.
Soon to be a major motion picture starring Elle Fanning!

Theodore Finch is fascinated by death, and he constantly thinks of ways he might kill himself. But each time, something good, no matter how small, stops him.

Violet Markey lives for the future, counting the days until graduation, when she can escape her Indiana town and her aching grief in the wake of her sister's recent death.

When Finch and Violet meet on the ledge of the bell tower at school, it's unclear who saves whom. And when they pair up on a project to discover the "natural wonders" of their state, both Finch and Violet make more important discoveries: It's only with Violet that Finch can be himself—a weird, funny, live-out-loud guy who's not such a freak after all. And it's only with Finch that Violet can forget to count away the days and start living them. But as Violet's world grows, Finch's begins to shrink.
When I first heard that Elle Fanning was going to star in the film adaptation of ALL THE BRIGHT PLACES, I said to myself that I HAVE to read that book. So, I did, and wow, I just have too many feeeeeeeels.
You see, at first I thought that it was just going to be one of those books that was going to be like everything else in the market but it turned out to possibly be the best thing I've read this year, so far. I thought it was going to be pretentious, and that it would be a rip-off of everything I've recently read—but I was wrong.
ALL THE BRIGHT PLACES tells about the story of Violet Markey and Theodore Finch who found each other in the craziest circumstance and learned that they needed each other—and needed to see the world, or at least, close to it. I've always had this thing for stories that deals with road trips, or seeing the world and the like.
Another thing that I like about the story is that the characters, although they're young, are deep. And it's not just the romantic kind of deep, it's the real kind of it—which made me appreciate this book more. It's the kind of story that has so much depth in it.
What also made me in awe of this book is the fact that the author knows what she's talking about. You can feel her emotions through her words and that's why the story is so effective. Maybe, you won't realize it in the beginning, but as the story progresses, you'd understand why the characters (especially Finch) are the way they are. And somehow, you'd feel for them, especially if you've gone through what they're going through.
I also liked the fact that ALL THE BRIGHT PLACES discusses issues that are real, no matter how people try to hide them or try to think that teenagers do not or should not deal with these issues. She knows about the things that are wrong with the world, and how one can really feel.
Needless to say, it's the kind of story that certainly leaves a mark. I don't think you'll be able to finish this book without feeling shattered, or feeling a surge of emotions enveloping you. Read it—all the way to the end. Let yourself be whisked away by the story. Let yourself understand.
Trust me, this story? It will stay with you—for life.
P.S. ALL THE BRIGHT PLACES also inspired me to create a playlist for Violet and Finch and here it is:



1. The Script – All the Right Moves

2. Natasha Bedingfield – Wild Horses

4. Natasha Bedingfield – I Bruise Easily

5. The Calling – Stigmatized

6. The Smiths – How Soon is Now

9. Christina Perri – Arms

11. Jason Mraz – Back to Earth

12. John Mayer – Dreaming with a broken heart