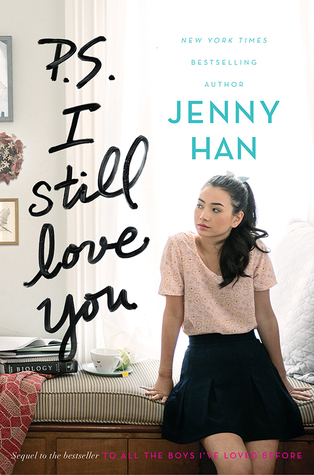 Lara Jean didn't expect to really fall for Peter.
She and Peter were just pretending. Except suddenly they weren't. Now Lara Jean is more confused than ever.
When another boy from her past returns to her life, Lara Jean's feelings for him return too. Can a girl be in love with two boys at once?

In this charming and heartfelt sequel to the New York Times bestseller To All the Boys I've Loved Before, we see first love through the eyes of the unforgettable Lara Jean. Love is never easy, but maybe that's part of what makes it so amazing.
Titus the Bear with Lara Jean
AHHHHHHHH! The book that was with me in my sickbed. Let me first just sum up the roller coaster of emotions that you'd feel by reading this book. Mainly, it would be:
AAHHH THIS IS SO FLUFFY I'M GONNA DIE--NOW THIS MAKES ME WORRIED--THAT'S CUTE--OMG WHAT JUST HAPPENED--NO NO NO--NO YOU DID NOT JUST DO THAT--WHAT THE HELL---HMMM WILL THIS WORK---I STILL LIKE THAT ONE THOUGH--WHOA---WOOOOOH---HELL YES---OH MY GOD BE STILL MY BEATING HEART---YES YES YES--NOW THAT'S HOW YOU END A BOOK
So, basically, you'd really be treated to SO. MANY. FEELS. once you read P.S. I STILL LOVE YOU. You see, ever since I finished reading TO ALL THE BOYS I'VE LOVED BEFORE at around the same time last year, I've waited for the sequel already. This is one of those series that are good for your heart, you know. Light, real, and would really make you feel things.
**This might be spoilery so please stop reading if you hate spoilers**
Anyway, P.S. I Still Love You is the continuation of Lara Jean and Peter's story. What I like about this story is the fact that it picks up from where the first book left off. It has that certain amount of excitement--the spark that you're probably looking for in a love story--and would really make you feel for Lara Jean, especially if you've been in her shoes (or close).
That New Year's Eve Dinner was...really "kilig". It's simple, but kilig, and damn that contract! Haha! Super cheesy, but hey, they're young! How many times have you actually made extremely sane decisions when you were young? Not a lot, eh? So, yeah, I think that's what made it cute for me. Also, there's the fact that both of them were trying to understand where it would go; they were both trying to understand how they could make the relationship work.
Also, those text messages? Those should I call or not call stuff? They're super real!
"So I take Peter's hand; I put it on my heart. I tell him, "You have to take good care of this, because it's yours."
I like their chemistry. That's the main reason why I was TEAM KAVINSKY in the first place. They just have SO. MUCH. CHEMISTRY between them that you can't help but root for them; you can't help but wish that things would really work out between them, and for them, because there's just so much promise in there. And things like these could really give you hope.
And of course, there's conflict. Lots of it, actually. There's Genevieve, and I thought Josh would still come into play but alas! Jenny Han treats us to this new (well, not really new, as he's one of the recipients of Lara Jean's letters) guy. A guy who's also charming, and cute, and nice, and kind and all that, but somehow, he just didn't work for me. (Again, TEAM KAVINSKY)
I have to admit...I kind of felt worried when the whole Kavinsky Mess started happening. I was like, OH NO. No, you did not make me love and root for him just to mess him up this way. I was like, is this a sign that bad boys really cannot change? That Chuck Bass would be "Chuck Bass" for life? Because, seriously, some of the things Kavinsky did in this book were just...cringe-worthy. HAHA! I mean, I just didn't want to believe he would do that (Especially the Necklace Thing. And Anabel Lee). I thought it was unnecessary, but then I realized that:
1) He's young, he's gonna eff up. You'd expect that people won't, but realistically speaking, it happens.
2) The people we love could really break our hearts. How they make up for it is what matters.
3) Every Love Story really has to have some conflict for it to work.
"I say, "In the contract we said we wouldn't break each other's hearts. What if we do it again?" Fiercely he says, "What if we do? If we're so guarded, it's not going to be anything. Let's do it fucking for real, Lara Jean. Let's go all in. No more contract. No more safety net. You can break my heart. Do whatever you want with it."
So, when the whole thing was redeemed, I was, of course, happy. I couldn't be happier. You know, when a book plays on your emotions, it's something good. When it makes you think, when it pulls at your heartstrings, it's amazing. Even when you don't often agree with the author, what matters is that he/she made you feel something. And if you've been following my reviews for some time now, you'd know I don't give 5 stars just like that--but this one deserves it.
"There's a Korean word my grandma taught me. It's called Jung. It's the connection between two people that can't be severed, even when love turns to hate. You still have those old feelings for them; you can't ever completely shake them loose of you; you will always have tenderness in your heart for them."
Another thing I liked about this? It's the fact that it kind of makes you reflect on the people you once had in your life. It makes you realize that not all relationships are meant to be forever--and that's okay. It makes you remember some of the people you had in your life, especially those who aren't there anymore, because that's life, you know? You meet people, some of them make a mark on your life, but that doesn't necessarily mean that they'll be there forever. And there is nothing wrong with that.
Jenny Han surely exceeded my expectations. Can't wait to read more from her! A Kitty spin-off, maybe? Yes?
Toodles!