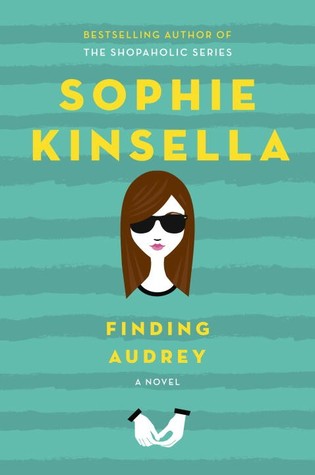 From the #1 New York Times bestselling author of the Shopaholic series comes a terrific blend of comedy, romance, and psychological recovery in a contemporary YA novel sure to inspire and entertain.

An anxiety disorder disrupts fourteen-year-old Audrey's daily life. She has been making slow but steady progress with Dr. Sarah, but when Audrey meets Linus, her brother's gaming teammate, she is energized. She connects with him. Audrey can talk through her fears with Linus in a way she's never been able to do with anyone before. As their friendship deepens and her recovery gains momentum, a sweet romantic connection develops, one that helps not just Audrey but also her entire family.
You know, when I first heard that Sophie's releasing a new book this year, I was like, I'm definitely getting that. And of course, I did. Actually didn't know that FINDING AUDREY would be about Anxiety 'til like, a few days before I bought it.
If you've been reading this blog (and know me), you'd probably already have an idea that Anxiety is something that I have to deal with. Knowing that Sophie Kinsella writes with such wit and humor made me wonder how she'd be able to show the realities of having Anxiety in a novel.
I don't know if you know this, but my favorite Kinsella books are not in her Shopaholic Series (although I absolutely love the series, too), but her contemporary, more serious ones, such as TWENTIES GIRL, and REMEMBER ME. What I really like about Kinsella is that she's able to construct realistic worlds, with a flair of drama (and fantasy, at times), and she's able to tackle serious things without sounding too dramatic, too heavy--and I guess, that's the magic of her books, really.
FINDING AUDREY is the story of a girl named Audrey, who's taken to wearing sunglasses, just so she wouldn't have to deal with other people and look them in the eye. She's also taken to dimming the lights in the den, and just being in her own world. There were days when all she wanted was to stay in bed. There were days when the attacks just happen out of the blue, which is most of the time, really. She also has such a dysfunctional family. And oh my god, I was like, THAT'S TOTALLY ME (minus the shades).
Audrey has to deal with a lot of issues, and the book showed how creating a "homemade film" was her form of therapy, amongst others. And then there comes a boy who would eventually turn her world upside down. The question is: Is she willing to let him in?
The fact that Kinsella was able to depict how it is for people who suffer the said condition is really a plus. Also, there were a couple of times when I totally LOL'd--and not just in my mind. There were also times when the book really touched my heart, and made me say, "HEY, SHE GETS IT. She does."
What I also liked about this book was the fact that the Love Interest (Linus), was quite the charmer, without it being put-on, and that he tried to understand Audrey, and was honest that although he didn't quite get it, he wouldn't let her down. He was there for her. And, when you have Anxiety, that's really one of the most important things you could hold on to: that people are actually willing to be there for you, and not judge you.
Well, I don't want to spoil too much, but I could say this is one of the best books I've read this year. Sophie Kinsella has delivered a story that's poignant and full of depth--while making sure that her flair for sophistication and humor were still there. Needless to say, it's a book full of wit, just like its author--but is definitely full of heart, too.